Union Family Series: Red & Wally Malone
by Alex Walsh
Red and Wally Malone are a father and son union dynamo. After a long career as a jazz, Dixieland, and big band drummer, Red served as Secretary-Treasurer and Vice-President of the now merged Santa Cruz Local 346. Wally, bassist extraordinaire, followed in his father's footsteps by serving as Board Member, Secretary-Treasurer and President for Local 153, and as a Trustee for the Reno Local 368. He now serves as the Western Field Representative for the AFM. They are both very proud of their union heritage.
RED
When Red was ten years old, he fell in love with three things–music, magic, and archery–and made a living at all three. He joined Local 60 (Pittsburgh, PA) when one had to take a test to be in the union. The first job he had they took his sticks away and told him to play the bass drum. "I could read but I wasn't a good set player," said Red. "But then I learned to play a set of drums, and that was a lot of fun."
In the 1950s, Red played in clubs that were run by the mafia. They would tell the big stars where to go after their regular shows. Every Friday, Saturday, and Sunday, people like Sammy Davis, Jr., Sinatra, and Tony Bennett, would go to the Allegany Beneficial Association, a private club where Red worked. "It was one of the typical clubs with a guy at the door that filled the whole door," said Red. "We'd start at 2:00 in the morning and go until 4:00. We never knew who we were going to play for until we got there. They'd come in with their music, hand it to us and say, 'fake it'. That's where I really learned sight reading."
Red eventually started his own archery company, Redhead Archery. When he found out his business partners were cheating him, he moved his wife and seven children to nearby Harrisburg, and joined the Ben Pearson Archery Company, where he helped design their first bow, the Palimino.
Red says it was such a good bow that within a year every top archer in the world was shooting a Palimino. "All my kids shot, and I took each of them hunting," said Red. "One year I made the mistake of taking the wife. When she saw her first deer, at 40 yards, she nailed it through the heart. 'You always said it was so hard, but this was easy' she said. I never took her again."
Red also taught music, privately and in the public schools. By now the Dixieland revival had swept the country, and Red joined his first Dixieland band, The New Orleans 6. They were very successful and went on to release an album locally. One of his other regular bands included Tom Darlington, His Electric Violin, and His Philadelphia Musically Yours Orchestra. "I don't know how he got it all on a business card," said Red. "If you ever saw that band, there wasn't a sheet of music onstage. We played twice a year for the mafia / Liquor Dealers Association, in New Jersey. The boss would ask us to play a tune, and we'd play it, no music."
WALLY
"I joined the union when you didn't have to take the test anymore," said Wally. "I started playing late, as a senior in high school, and learned by lifting bass parts off of records by ear. I was into R&B, all the hits of the day–Wilson Picket, Otis Redding, James Brown, Aretha Franklin, Booker T and the MG's–that was where I came from musically." Wally eventually had his own band called The Fourmations. When they started playing professionally, his Dad said, "If you're going to be making money, you should be a member of the union." Wally joined local 269 in Harrisburg and was soon offered a road gig in a traveling band.
"When Wally told me he was quitting college and going on the road, I wasn't happy," said Red. "But he did great."
Wally's first stop was Philadelphia where their agent had set the band up to get new suits, and then on to New York for a professional photo shoot and a few club dates. "We were booked in a club in NYC and there were two bands playing alternate sets," said Wally. "That's where I met my wife, then professionally known as Little Jewel. She was playing in the other band. Later she was called Lady Bo."
Lady Bo was the guitar player for Bo Diddley during his rise to fame in the late 50s. She got off the road with him in 1962 to help with her ailing mother, and had been playing locally in the New York area ever since. During this time she fronted one of the biggest bands in New York, The Jewels, and was playing with a travelling band called The King's Paupers when she met Wally. "We would fly to see each other in our off times," said Wally, "Eventually she got a gig as the house singer and guitar player at a club up in Boston. I quit the band I was in, went to Boston, and we got married. That's when we started our career together."
While in Boston, they met a band from New Orleans who were touring as The American Soul Train Review. They were known as The Boogie Kings in the South, but the booking agent didn't like the name. The Boogie Kings asked Lady Bo and Wally to join their band, and they spent the next six months performing all over Louisiana and Texas. "We were recently inducted into the Louisiana Hall of Fame," said Wally, "Everybody who played with The Boogie Kings has had that honor."
After a few personnel changes, it was time to leave The Boogie Kings. With encouragement from Lady Bo's previous drummer, George Ostrander, they drove out to San Jose in the spring of 1969. "George was in a band in the hippie movement called Throckmorton," said Wally. "They had a hippie commune type of house on 5th street, the house they talk about from the hippie days when Ken Kesey was in San Jose. We stayed there for a month or so until we found a place." They formed a trio and began working casuals. "It was a unique environment for us," said Wally. "I was used to the type of bands that all dressed up." Wally eventually grew his hair and took on the persona of the Sly and the Family Stone style of the time.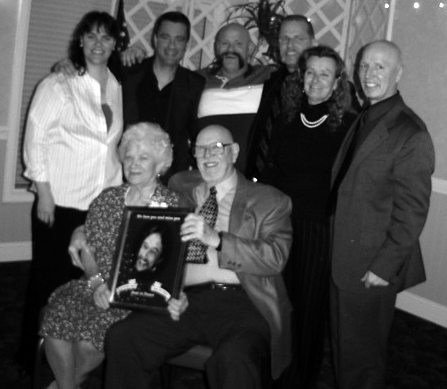 "In 1969, we went to the Fillmore when Bo Diddley was playing," said Wally. "That was the reunion; she hadn't seen him since 1962. We did a few Fillmore shows with him, and then started travelling all over." Lady Bo and Wally continued with Bo Diddley until the early 90s.
RED
From Harrisburg, Red moved to Louisville, Kentucky, where they have the Kentucky Derby. "I loved it," said Red. "You could make a ton of money in Louisville playing drums. I played with a band called The Rascals of Ragtime. We played at the track every morning, Monday through Thursday, during derby week. On Friday we played near the betting windows. On Wednesdays in the afternoon we put on bandanas and cowboy hats and became the Swinging Cowboy band. We'd get all the big stars from Nashville, like Johnny Cash. The ragtime band became a cowboy band, all union, all good musicians."
After Louisville, Red moved to Kansas City, MS, where he played in a local Dixieland band. In 1982, he followed Wally to San Jose, and eventually settled in Boulder Creek. "I started a Dixieland band," said Red. "I had the top musicians in the area. We traveled to Oregon, LA, Arizona, and New Mexico."
Red also started a big band, Esquire, which played at the Mount Madonna Inn the first Sunday of every month for 12 years. "Eventually, non-union bands came and said they'd play for free," said Red. "So they started splitting up the Sundays and I told them I quit. People kept calling me, 'when are you coming back?' I never went back. The place closed soon after that."
During the 80s and 90s, Red became involved in the former Santa Cruz Local 346, holding several officer positions, including Vice-President and Secretary-Treasurer. He was instrumental in creating MPTF gigs in the area, including Wednesday night summer gigs in Capitola, which have since gone non-union. He continues to attend AFM conventions and plans to attend the next Western Conference which will be held in San Jose in 2015. Both Red and Wally are past Presidents of the Western Conference of Musicians.
"I was never late to a job, I was always the early guy," said Red. I believe that's the only way to be when you're a drummer, because you have to set up. At my age, it was getting so I couldn't set them up anymore without breaking my back, so this Christmas I sold my drums. I sat and cried for half an hour."
These days Red keeps a minimal kit, snare, ride cymbal, brushes and sticks, and plays in senior homes. "We do the old tunes and they love it," said Red. "I bring a five piece band plus a girl singer, and we do one set and go home. Senior places do not want you all night."
WALLY
In 1987, Wally and Lady Bo went on tour with Bo Diddley. "It was the biggest thing we ever did," said Wally." 35 dates in 30 days, in 9 countries. We also recorded a concert documentary for Swedish television. It was released worldwide and is still available on Youtube." After the tour, Wally decided to get a day job so he would not have to play every gig that came along just to put food on the table. "When you're a full time musician, you're working at all levels," said Wally. "To stay at a higher level, and to help my wife's career, I figured it would be better if I had other income. It worked. Of course we were still playing with Bo Diddley during that time."
Wally became active on the Local 153 Board during a desperate time in the locals history when it was about to fold. " A group of active working musicians instituted the Last Chance Coalition and voted all new people into office," said Wally. "I was encouraged by Local 153 member, Med Daugherty, to start attending the board meetings. We turned the Local around and saved it."
In 1993, Wally became Secretary-Treasurer. He was also elected to the Board of the Santa Cruz Local, which helped in the merging process. The San Leandro and Monterey Locals were merged soon after. "The merges were good," said Red. "We lost a couple members, but we didn't lose many."
In 1996, Wally was elected as Local 153's first fulltime president. During this time he was heavily involved in the AFM regionalization meetings, and starting the Bay Area-wide musicians referral service. Wally says 153 was considered one of the most progressive locals in the country at that time.
Wally continued to play local and fly out gigs, including a three year run with the show Tony & Tina's Wedding. He started a bass ensemble called Bassed On Jazz, and still holds regular bass player get-togethers. In 2004, Wally was offered the Trustee position for the Reno Local 368, and then the AFM Western Representative position in 2006.
For the future, Wally hopes to tour a little more. In the meantime, he's learning to sing jazz tunes and play upright while doing it. "Lady Bo was just offered a gig in Texas in November, and we always go to New Orleans and do the Ponderosa Stomp. In June I'm playing with a Fleetwood Mac tribute band called Rumours, so I still do an occasional one here and there."
Both Wally and Red agree that the Local 153 and Local 6 merge is a good thing. "If you go from Marin down to Carmel, it's a working area, not just a bunch of farm land," said Wally. "With the merge, we're now close to 2,000 members. I think that makes us a stronger union."
Red: I will never leave the union until the day I die. Wally: Especially now that he has a $2,000 death benefit…